We have reviewed all of our product patterns, and have created this handy Magpie Goose size guide! Measure yourself up as per our instructions below, and then you'll know you're roughly a size X in Magpie Goose!
All future products will be made with this size guide in mind - we are on the path to consistency!
* This chart refers to your body measurements (in cm) Actual garment measurements can be found on each individual product page.
HOW TO MEASURE YOURSELF TO FIND YOUR BEST FIT:
Use a measuring tape. Alternatively, you can use a piece of ribbon/string and then measure it with a ruler afterwards.
Don't hold the tape measure too tightly to your body, you should be able to breathe comfortably when measuring.
It makes things easier if you do your measurements in front of a mirror or if you have a friend to help you out.
Take your measurements over bare skin or in your underwear. 
Note: it is a good idea to take into account what underwear you normally wear. For example: if you normally wear a padded bra, it's best to measure whilst wearing that bra as the padding can quite dramatically alter your measurements. Similarly, if it is a style that you wouldn't normally wear a bra with, measure over your bare skin.
Bust:
With your shoulders relaxed and arms by your sides measure the largest point of your bust, ensure the tape measure is held level around your back.

Waist:
Relax (don't breathe in!) and measure the narrowest part of your waist, if you are unsure, bend sideways and where you 'bend' is a good indicator.
Hip:
Stand with your feet together. Measure around the  widest part of your hips and bottom. Ensure you keep the tape measure level.
HOW TO USE GARMENT MEASUREMENTS TO GET YOUR BEST FIT:
Each of the Magpie Goose product pages will have some key measurements of that specific garment and advice about the fit (eg. oversized, true to size etc).
To put it simply, you want your BODY measurement to be SMALLER than the GARMENT measurements. You want to allow a few cm extra for "breathing space".
A good way to check your desired fit is to get your favourite pair of pants and check the waist measurement on those. You can do the same thing for the bust measurement of a top, etc.

If you need some help with deciding  your size, just get in touch! hello@magpiegoose.com

Or, if when you receive your order it's still not right, that's ok too! Check out our returns process here
Customer Reviews
Love at first wear
Super comfy, super gorgeous tank top. Size is perfect, fit is great, I really like the length. Top is so easy to wear and the print and fabric are both absolutely scrummy.
12/26/2021
Rachael B.

Australia
12/22/2021
Penny

Australia
Love my Lanky top
Thanks for posting my top so quickly. I'm thrilled with it, it's just perfect for summer, and the size was accurate as described.
11/28/2021
Craig T.

Australia
Simply the best
Great clothes and prompt delivery.
03/13/2021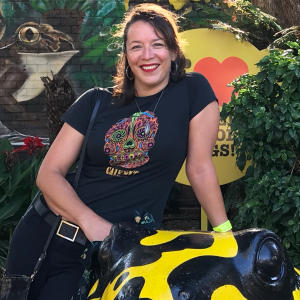 VM
Venita M.

Australia
Simple tank - Lanky
I love my new top and have had numerous compliments on it. Nice fit, great colours, soft feel and very comfy. Thanks
03/12/2021
Emma O.

Australia
I love lanky!
Bought the lanky tank in a size 8. The fabric has no stretch so I was worried about it over my ample bosom but it fit the DDs with room to spare. Dominica's art is awesome and comes up exactly like the pictures, cream and lilac lankys on dark blue linen. It comes to my hip, perfect for tucking into jeans or a skirt.