BODY PAINT - PRINT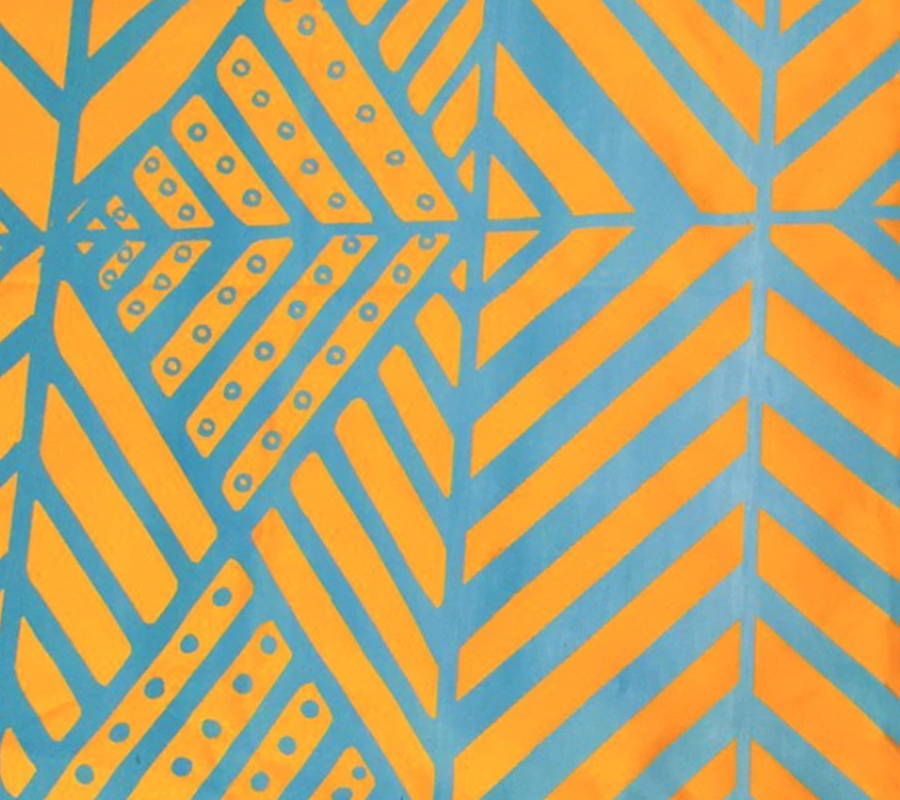 Body Paint - Jilamara
By Alan Kerinauia
---
ART STORY
"I made this bodypaint/Jilamara design in Canberra in 2014. First we made it to print on a t'shirt - but I wanted to blow it up in the darkroom to fill a whole screen.
Jilamara means painting or design - Tiwi people do Jilamara on their body, on a screen, or paint it on canvas. In the old days people did Jilamara through making a scar on their body with a shell. Nowdays they do Jilamara with paint. Old people paint Jilamara for ceremony on the young kids, and they paint up themselves looking in the mirror.
Jilamara can have lots of different meanings - like the pattern of a crocodile, like a shark, or water, or coral reef, or the tide. It can tell the story of any of the four skin groups - sun, pandanus, rock, or mullet (fish).
My Jilamara is patterns of things that live on the land and the sea. Triangles can mean sugarbag; triangles with dots can be honey bee. The full lines they represent a creek or a river. The lines and dot are sort of like a snake. Dots are waterholes or people. That's all in my design."
---
---
ABOUT THE ARTIST
Alan was born in Wurrumiyanga, Bathurst Island in 1964. "I been here at Tiwi Design since the early days. I was seeing people starting off the screenprinting - Bede and Giovanni - I see my families, painting, carving. So when I left school in 1983 I came to Tiwi Design and started working with Bede, Giovanni, Osmond Kantilla.
"I love seeing the famous people wearing my designs, and coming up with different bright colours to print."
In 2014 Alan attended workshops at Megalo print studio in Canberra with fellow Tiwi Artist Vivienne Warlapinni to create six new fabric designs and 12 T-shirt designs, which are now held in the National Gallery of Australia.
See more at: tiwidesigns.com
---
---