CLAPSTICKS - PRINT
Clapsticks
By Uncle Noel Blair
---
ART STORY
"I've been carving things out of wood since I was young, living at Cherbourg settlement. I carved my first walking stick for my dad in 1969. I love burning images onto the wood – because it's there straight away. You don't have to wait for paint to dry, or wash up the brushes afterwards!
Clapsticks weren't really part of our early teachings and traditions; for music we used to clap bigger things – like boomerang and woomera – together. Clapsticks were traditionally used for lots of things – music, hunting, ceremony, and as message sticks – to travel from one country to another. You had to have them to have access to and be allowed to enter onto other people's land.
Sometimes now I write a message on a clapstick, and then give it to someone. It's a modern way to pass on a message! One time I wrote "I'm sorry, so sorry, it wont happen again". I showed it to one of the fellas and he said 'I'll have a dozen of them!". I reckon he's breaking a lot of hearts."
---
ABOUT THE ARTIST
Uncle Noel Blair is a Jinibara artist based out of Brisbane's West End. His art practice focuses on burning traditional and contemporary designs onto hand carved wooden artifacts such as walking sticks, clapsticks and boomerangs.
Born on Christmas Day in Wondai in South East Queensland, as a child Noel was moved with his family to the Cherbourg Aboriginal Reserve which was set up and controlled by the Australian Government. When Noel was 14 he was sent away to Quoin Island near Gladstone to work as an indentured labourer. He ended up breaking free and escaping, getting by with contract work – peanut picking, ring barking, stick picking, camping, fishing, hunting – and "keeping out of sight of those government people!"
Uncle Noel has been an artist since he was a child: "I started drawing when I was quite young; drawing was good when I couldn't afford to buy paint! When I grew older I started working with the older people. They were carving walking sticks, spears, boomerangs, woomeras. I've always tried to keep my culture. Doing art is part of that. Growing up at Cherbourg the old people used to try and keep culture strong; my grandma used to take me out hunting, fishing, camping."
"I like doing the burning (on wooden artifacts) – you don't have to wash paint brushes, or wait for the paint to dry! You just burn it – and it's done! I can do it for hours and hours without distraction, it helps me to concentrate, to think, to relax.
Uncle Noel is a Traditional Custodian of Jinibara Country, which was recognised in 2012 by the Federal Court in a native title determination. (The Jinibara group includes Dala, Nalbo, Garumgar, Dungidau clan groups). The claim was filed in 1998. "In 2012, we were granted exclusive access to 800 hectares of property (in eight parcels of land). We also got non-exclusive rights to 70,000 hectares of national park (Glasshouse mountains, Mapleton National Park). That was a really good feeling; it took a really long time, but we got there".
Uncle Noel is involved in the Woodford Folk Festival, as Traditional Custodian of the Woodfordia site, and as a Jinibara Delegate to the festival Committee.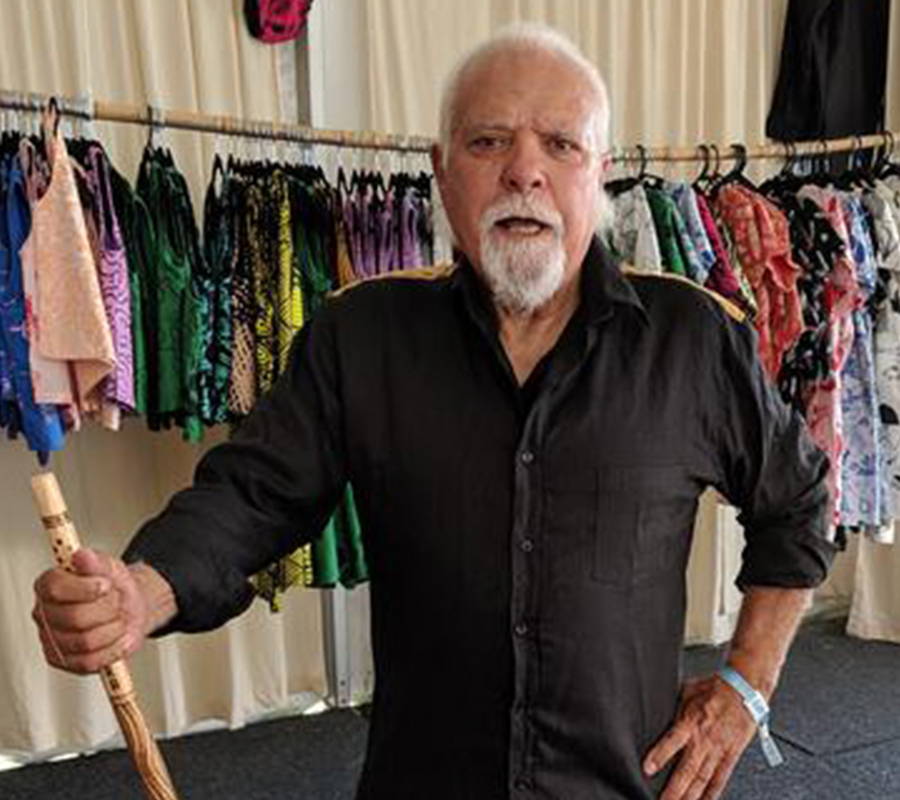 ---
---