ART STORY: Gaanyji (Reef Shells)
This is a collaborative design created by Pauline Sampi + Janine Mandijalu. Pauline is Janine's mum's first cousin; she's a mum to Janine.
"This design is about all the Gaanyji (shells), on the reef when the tide goes out. The high tide come in, and when the tide goes out - when it gets really really low - all the shells are exposed. These are all the shells we find on the reef.
"The shells that we did - the sketching - they're the type of food that we live off here, from the ocean; the reef. They're more of a treat; we just get it when we feel like eating that!"
There's the long one - Ngoolgna (trumpet shell). People eat this one.
The one that looks like the scallop shape - the big long one with four lines on its back. That's a razor shell. We call it Rawol.
The triangle one is the trochus shell. That's edible. Trochus shell was income for Bardi people in the early days. They'd go out and collect it when the tide was out; boil it; bring it back home to the campfire. Boil for 2-3 hours until the water turns green. Tip it over, and then hit the meat out with a piece of log - while it's hot. The meat is a delicacy! Marinate it, pickle it, fry it up, make a curry. The old people out at Sunday Island (Iwanyi) would eat the meat, then trade the shell to the mission people, in exchange for food.
The trochus shells were used to make buttons - they sold it to the Italians for $5 a kilo- and then the remnants were crushed into powder then used for the polish on cars. We were the first community to have a license to sell Trochus shell. Nowadays they polish them up and sell them to tourists; or make jewellery out of it.
The one that looks like a coral - that's the Laangi.
There's also a pearl shell - looks like a scallop. People eat the pearl meat. There's lots of pearl farming around here. Bardi people used the pearl shell for traditional ceremony. They'd dress the men up with the pearl shell and only men were allowed to do that. They'd carve the pearl shell too, with red ochre.
Ambool - that's a bailer shell - for carrying water and digging. The old people - when they used to walk long distance to water holes, they'd take a bailer shell (white person name). There's a story to it. If the ambool was tipped upside down, it means it has water there - so people know they can dig a hole up and take water out of the hole. So when you're finished, you leave the shell there to let others know there's water there.
The other ones - we were just playing around with them!
"I cant wait to see this design on clothes. I reckon it would look good. I can't wait - I'm so excited. In person I think it will look so so good." - Pauline
"I reckon this shell design will look amazing on clothes - really nice - awesome." - Janine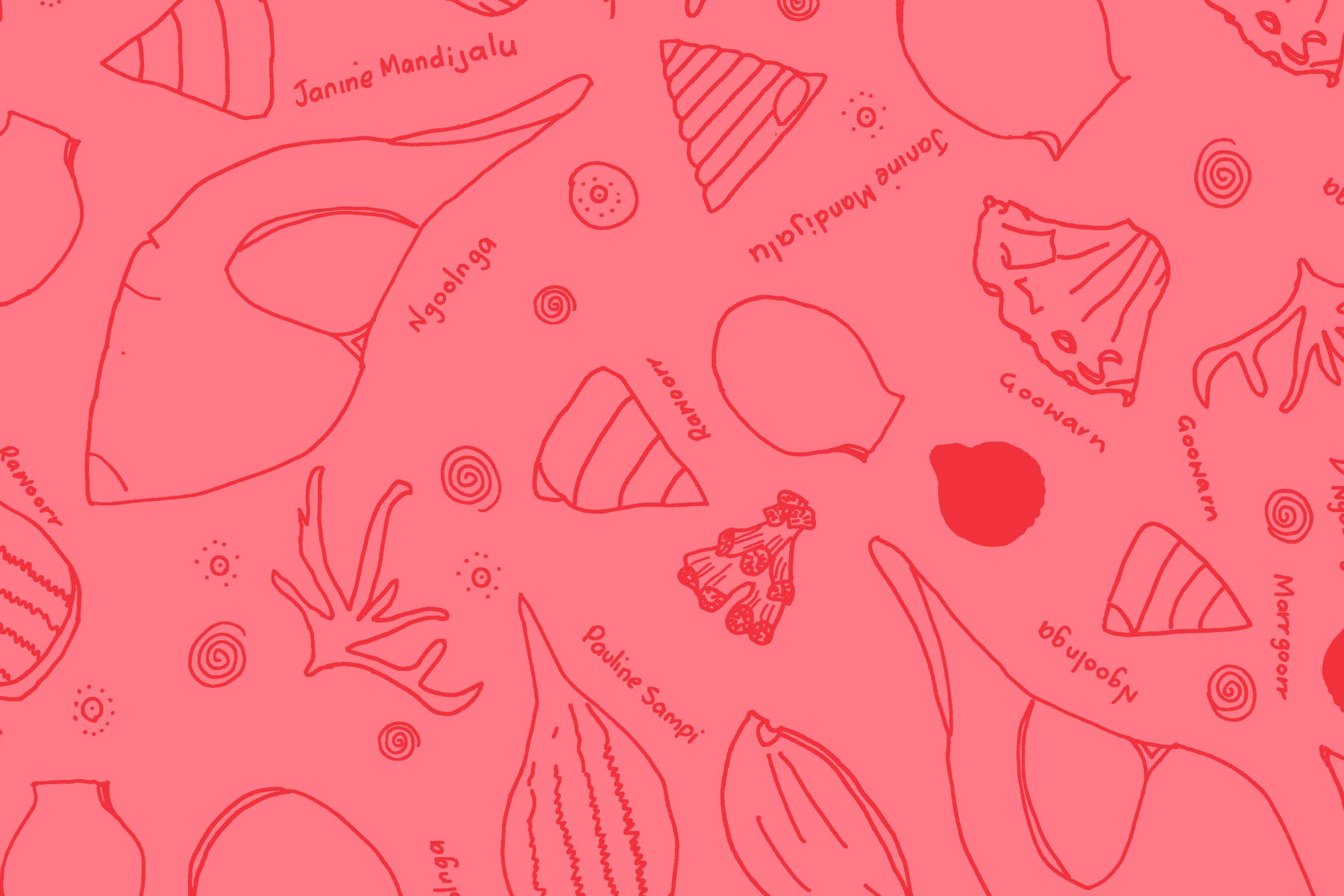 ---
ABOUT THE ARTIST: Pauline Sampi
I live in One Arm Point (Ardyaloon), a small community 200km north of Broome in the Dampier Peninsula. I like living here; it's a quiet, laid-back little community. The beach is 2 mins drive; the school, clinic are all very close.
I have a husband and a beautiful family - I have seven children, five grandchildren, one daughter in law and three sons in law. I like to take my grandchildren down to the beach and go fishing off the rocks.
We have a family block - Ngamakoon - about 15km down the road from One Arm Point. It's beautiful there. Beautiful big creek; red sand dunes; white sand dunes; the creek flows into the beautiful blue green ocean.
I've done all sorts of different work. I helped a power company do a survey; helped with the census. I'm the chairperson for a family business on my mum's side; it's a refuelling barge for boats (because we live near the ocean and a marine park is going to be here soon)
I'm also director for Waapi - an organisation we are getting started to tackle issues in our communities (kids not going to school, domestic violence, anti-social behaviour, parents with no support). We just formed a committee in the dampier peninsula area (One Arm Point, Beagle Bay, Lombadina/Djarindjin).
I love supporting anything that involves young kids; and I love being around the elderly women in our community. I like to get involved in the school, and lots of voluntary stuff.
I've done some things with the women's group. The group got set up to get all the ladies to come together to do activities. They're doing bush medicine collecting with the rangers now. TAFE came out and taught us how to put art on bags through silk screenprinting. We also made some dream catchers. That's how Magpie Goose got involved - through the women's group.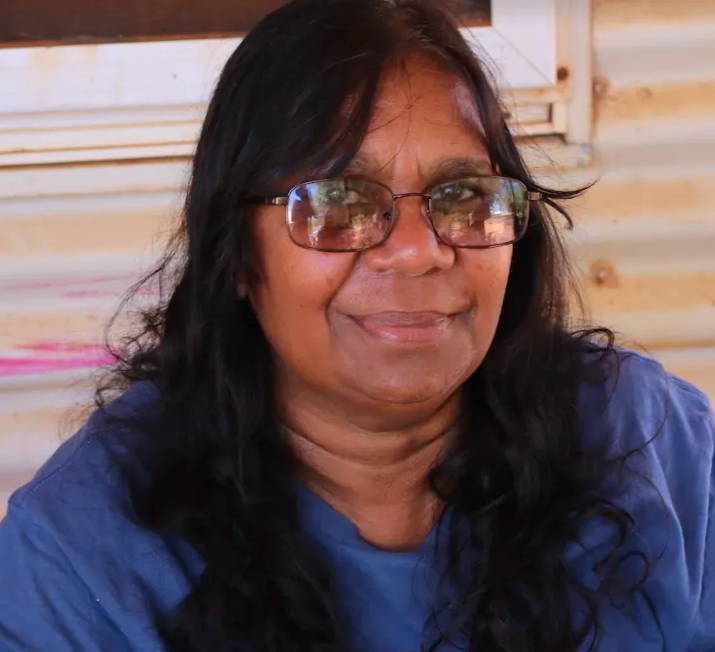 ABOUT THE ARTIST: Janine Mandijalu
I was born at One Arm Point (Ardyaloon), and spent most of my life growing up between here and Bidyadanga (380km south). I've got the best of both worlds - I'm salt water on my mum's side, she's from the islands up here; a Bardi and Mayala woman. My grandfather's from Mayala, so I'm part of that country too. And my dad's from the Western Desert - Martu country. From Pardoo, you go inland towards Parnngurr (Cotton Creek). When my dad was a little boy, they brought everyone into La Grange Mission at Bidyadanga. My dad and his family walked 30kms from Mandora Station to Wallal station, where a truck picked them up and took them to Bidyadanga.
I was the oldest of eight kids. I grew up in Bidgy with five tribes - all as one people. With mum's side I grew up going out camping on the islands, fishing on the reef with mum's mum. Same with the desert - I was taught to live and survive there, from all my old people, my Yulparija extended family. Pretty good childhood!
I'm a mum of eight kids - four boys, four girls- and a grandmother too. Pauline is my mum's first cousin. So she's another mother of mine. My mum's got 28 grandchildren. We come from a big, tightknit family. We all look after each other.
I've been doing artwork for years - I've done a few paintings here and there. Never really had an exhibition or anything. Just gifts for family.
I'm one of the community directors here in Ardyaloon, on the Board. I'm also a director for Mayala group - the country on my mum's side - we won our Native Title back in 2018 (over parts of the Buccaneer Archipelago). We always try and go back to country with our kids as much as we can - we go over on the boat. There's big mob country to see over there (300 islands over 3,800 square km).
Bardi county is the land side (including Ardyaloon), Jawi is the water side - the islands closest to One Arm, up to Sunday Island area. Then you cross over the Sunday Straight that's all Mayala country.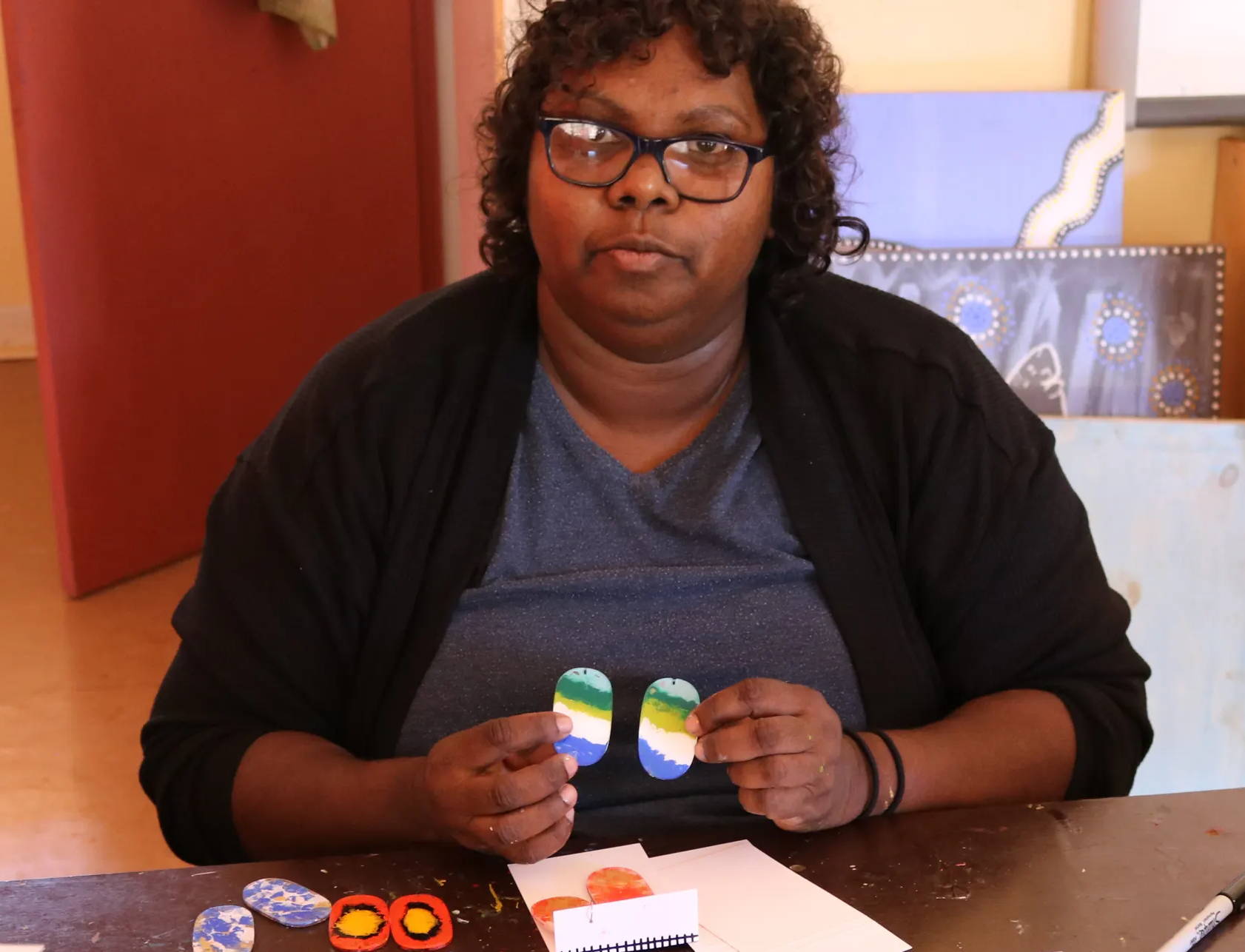 ---