Magpie Goose in the media
---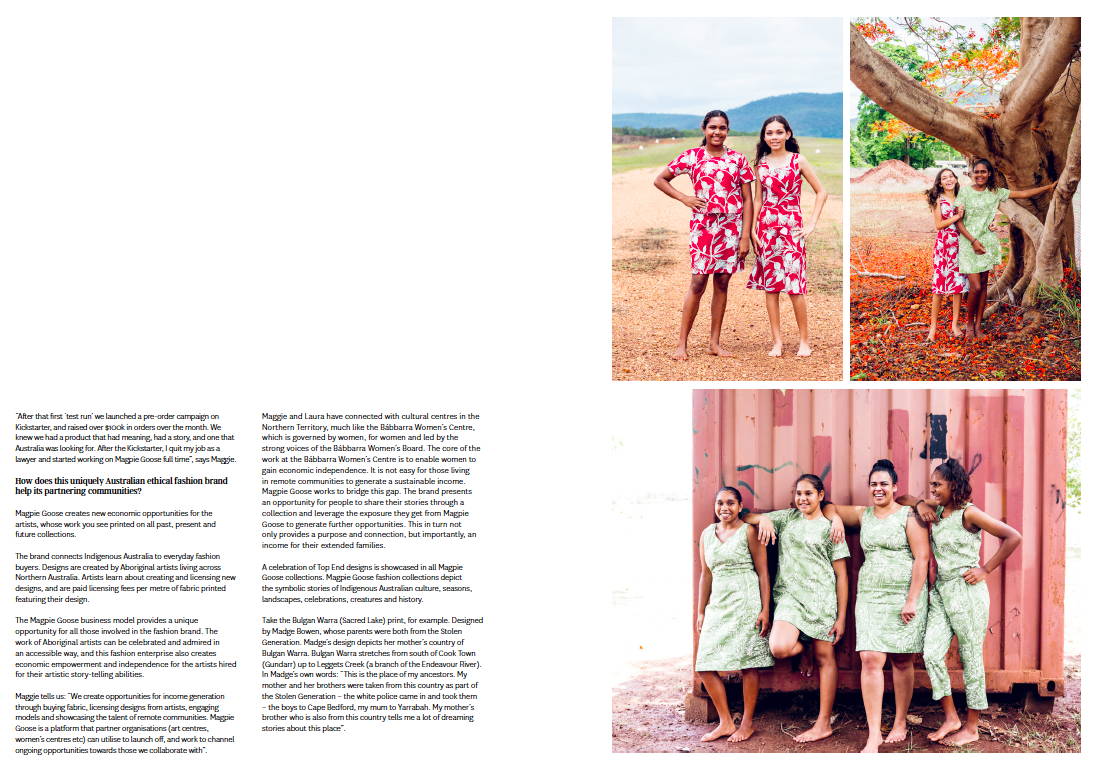 - July 2019
---
Fashion Industry Broadcast
Magpie Goose is Bringing Traditional Indigenous Designs to Contemporary Fashion
Magpie Goose is an ethically produced fashion label from the Northern Territory that's come along and blown everyone's socks off with their contemporary Indigenous designs.
Last April, Maggie McGowan was having a drink at Darwin Ski Club when her partner, Laura, asked her what she would be doing if she wasn't a welfare rights lawyer. The answer wasn't hard to find – she'd often thought about the potential of the screen-prints being made in remote Aboriginal communities around the NT.
By the end of the night, Magpie Goose was born; a label comprised of bright, bold and unique prints entirely hand printed by local Indigenous artists in the Northern Territory. A Kickstarter project soon followed with the goal of raising $20,000 to fund the first run of garment construction. They raised $100,000 in the first week and haven't slowed down since. The pair have now opened an online store, and featured in pop-up stores and markets around the Northern Territory, Sydney and Melbourne, selling out almost every time.
---
LADYSTARTUP: The social enterprise creating bright and bold statement clothing from fabric designed by Aboriginal artists.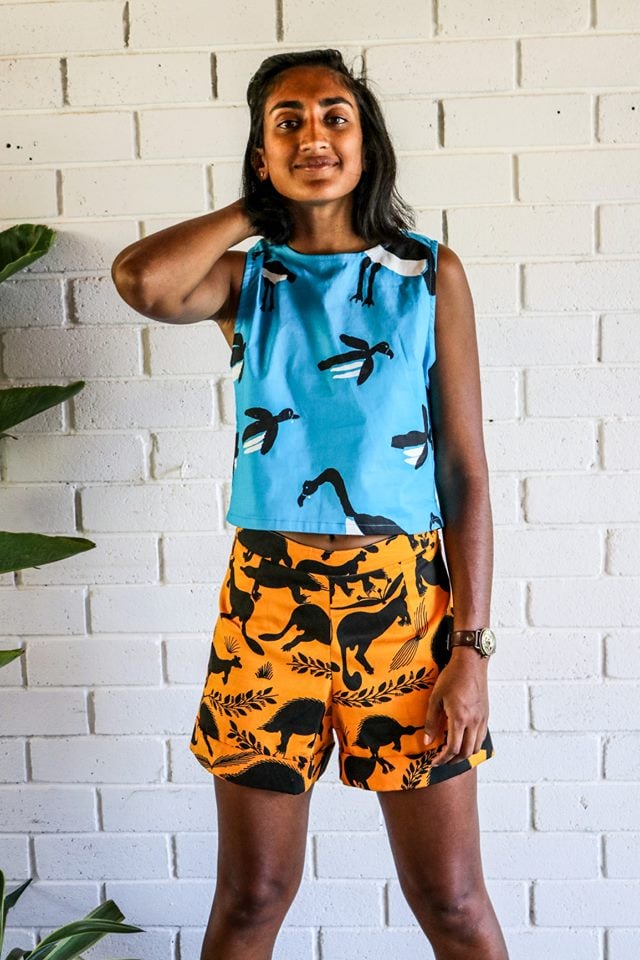 The Voice of Indigenous Fashion Design Gets Louder: Recent collaborations and new designs from Aboriginal Australians.
Five Questions With Magpie Goose
We're incredibly excited to be supporting Magpie Goose with a debut stall at our Brisbane market this weekend.
Magpie Goose is currently being incubated by Enterprise Learning Projects (ELP), an organisation dedicated to fostering and supporting grassroots business development in partnership remote Aboriginal communities. Another bold, bright and exciting designer who's our top pick this summer!
Read the full story here: Five questions (8 November 2017)
Magpie Goose video for Frankie Magazine, featuring Bábbarra Women's Centre artists, printers and models!
ABC NEWS - PREVIEW: New Top End fashion label Magpie Goose, is hoping to create sustainable jobs in remote communities for Indigenous people in the Northern Territory.
ABC AUSTRALIA WIDE - FULL STORY: A new fashion label has launched in the Northern Territory. Magpie Goose is working with art centres in remote Aboriginal communities (in the Tiwi Islands, Gunbalanya, Wadeye and Maningrida) to create clothes printed in traditional designs. Screenprinting stories onto fabric is also a way for communities to keep their culture alive in a modern way.
---
Magpie Goose: A new non-profit fashion label puts a modern twist on traditional Top End Aboriginal prints.
Magpie Goose uses traditional screen-printed Aboriginal fabrics from the Top End. Photo: Sarah Mackie
Inside a large airy shed on the Tiwi Islands, two men are methodically screen-printing 30 metres of bright orange paint on white fabric.
Artist Mario Munkara points out the different design elements of the printed ceremonial pukumani burial poles, representing various styles of body painting and scarification used during funeral ceremonies.
"They used to have the scars around their chests, and the ladies used to have it on their breasts and shoulder," he says.
"Pukumani pole is traditional way for us when we carve, to think about our sorrow and the person who passed away."
The fabric, telling a very old cultural story, will soon be transformed into vibrant clothes for the new not-for-profit fashion label Magpie Goose.
Read the full story: Magpie Goose: A new non-profit fashion label puts a modern twist on traditional Top End Aboriginal prints, by Neda Vanovac (April 3 2017)
---
Fashion label Magpie Goose creating opportunities for remote art centres
Winnie Duncan, from Urapunga wearing a print from Injalak Arts in Gunbalanya, designed by Graham Badari. Photo: Maggie McGowan
A NEW not-for-profit fashion label is creating opportunities for remote arts centres right across the Top End.
Magpie Goose, run by Katherine resident and former NAAJA lawyer Maggie McGowan, is in the initial stages of developing a clothing range from fabric sourced from several remote community arts centres.
"I've always had an interest in those fabrics and thought they should be celebrated more across Australia and around the world," she said.
"There are all these amazing prints being created but are really quite difficult to access unless you already have a way to get out to those communities."
Read the full story: NT NEWS: Fashion label Magpie Goose creating opportunities for remote art centres, by Tamara Howie (February 27 2017)
---
NT News: Original printed story, Monday 27 February, 2017
NT News - original story printed Thursday 8 June 2017
Top End home to fashion start-up
A young lawyer from Victoria has transitioned from life in the courts to an outback fashion mogul.
Maggie McGowan, 28, from Yackandandah moved to Katherine almost four years ago to work as a lawyer with the Aboriginal Legal Service.
After travelling to remote Aboriginal communities in the Northern Territory, she was inspired to create Magpie Goose, a fashion brand that transforms local art into clothes.  
Read the full story: THE COURIER: Top End home to fashion start-up, by Lydia Lynch (25 February 2017)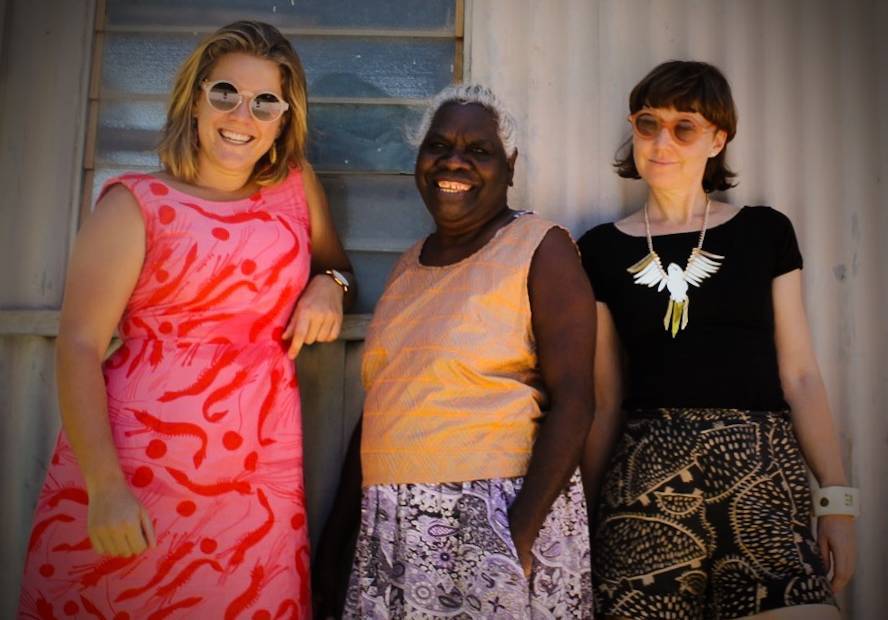 Maggie McGowan, Margaret Duncan & Laura Egan. Photo: The Courier
---
Katherine Times - Original story printed on Wednesday 1 March 2017
---