Magpie Goose in the media
 - July 2019
---
---


---

---


---

Magpie Goose is Bringing Traditional Indigenous Designs to Contemporary Fashion
Magpie Goose is an ethically produced fashion label from the Northern Territory that's come along and blown everyone's socks off with their contemporary Indigenous designs.
Last April, Maggie McGowan was having a drink at Darwin Ski Club when her partner, Laura, asked her what she would be doing if she wasn't a welfare rights lawyer. The answer wasn't hard to find – she'd often thought about the potential of the screen-prints being made in remote Aboriginal communities around the NT.
By the end of the night, Magpie Goose was born; a label comprised of bright, bold and unique prints entirely hand printed by local Indigenous artists in the Northern Territory. A Kickstarter project soon followed with the goal of raising $20,000 to fund the first run of garment construction. They raised $100,000 in the first week and haven't slowed down since. The pair have now opened an online store, and featured in pop-up stores and markets around the Northern Territory, Sydney and Melbourne, selling out almost every time.
read the full story: Magpie Goose is Bringing Traditional Indigenous Designs to contemporary fashion
---
LADYSTARTUP: The social enterprise creating bright and bold statement clothing from fabric designed by Aboriginal artists.
Mamamia is supporting women who are running their own race with #ladystartup . Meet the faces behind the businesses we're celebrating…
Maggie McGowan, and her co-founder Laura Egan, created Magpie Goose with a mission to bring fabulous Aboriginal art to the world through fashion, while offering enterprise learning and employment opportunities to Aboriginal people in partner communities.
Read the full story: Lady Startup: The social enterprise creating bright and bold statement clothing from fabric designed by Aboriginal artists, 25 December 2017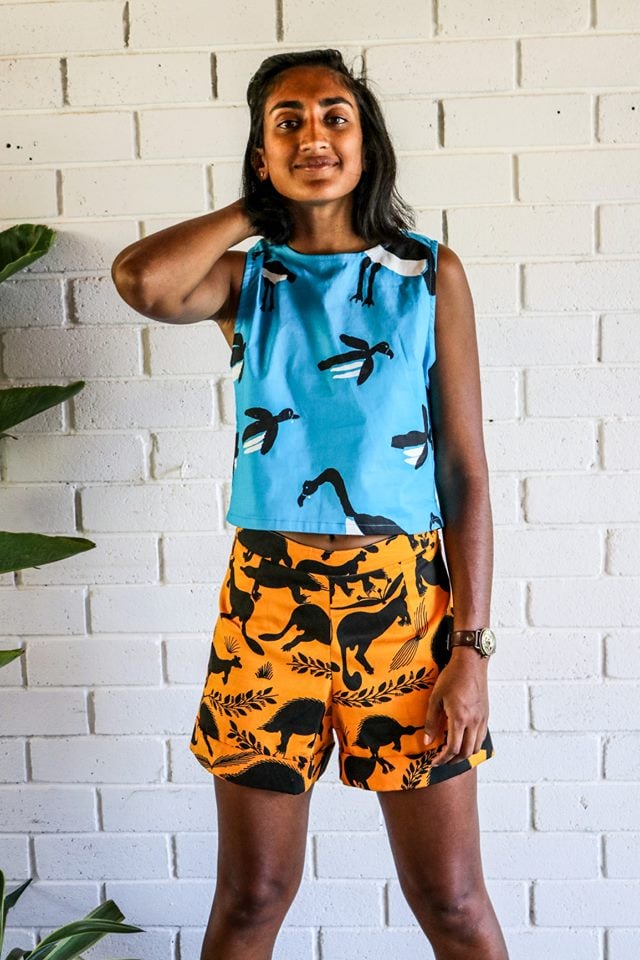 ---

The Voice of Indigenous Fashion Design Gets Louder: Recent collaborations and new designs from Aboriginal Australians.
---
Five Questions With Magpie Goose
We're incredibly excited to be supporting Magpie Goose with a debut stall at our Brisbane market this weekend.
Magpie Goose is currently being incubated by Enterprise Learning Projects (ELP), an organisation dedicated to fostering and supporting grassroots business development in partnership remote Aboriginal communities. Another bold, bright and exciting designer who's our top pick this summer! 
Read the full story here: Five questions (8 November 2017)
---
Magpie Goose video for Frankie Magazine, featuring Bábbarra Women's Centre artists, printers and models!
---
Frankie Magazine, September 2017 edition.
---