STEWART HOOSAN - COLLABORATOR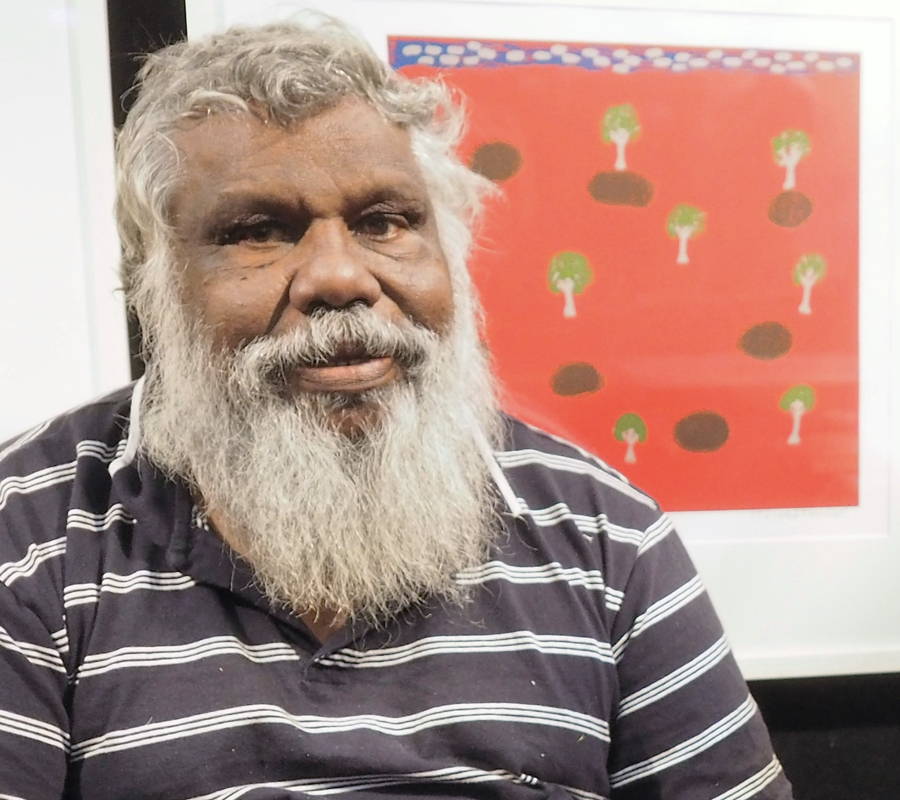 ---
Stewart was born in 1951 at Doomadgee Mission in the Gulf of Carpenteria, QLD. He is a Garrwa man on his mother's side. His paternal grandfather was Ali Hussin, an Egyptian cameleer from Central Australia. His maternal grandfather Yarriyarri grew him up on Calvert Hills Station (NT). Yarriyarri taught his grandson about country and the stories of the land.
From nine years of age Stewart started droving and working in stock camps throughout QLD, WA and the NT. He settled in Borroloola in 1972 after marrying Yanyuwa/Garrwa woman Nancy McDinny. He started his own cattle business at Wandangula (Police Lagoon), in 1979, and currently lives at the nearby Sandridge outstation with Nancy.
Stewart started painting in early the 2000s after he stopped cattle work. He started painting landscapes from the Calvert Hills and Robinson regions, and later started painting historical stories about droving and Aboriginal resistance fighters, who fought for their country during the period of colonisation in the Gulf. Hoosan is Junggayi (ceremonial "manager") for the country of his mother and her parents. He paints the big country belonging to the Garrwa people.
Stewart created this design in September 2017 during a screenprinting workshop in Katherine run by Tim Growcott and Millie Shorter, facilitated by Magpie Goose in partnership with Katherine Regional Arts.
---
---
---