We have reviewed all of our product patterns, and have created this handy Magpie Goose size guide! Measure yourself up as per our instructions below, and then you'll know you're roughly a size X in Magpie Goose!
All future products will be made with this size guide in mind - we are on the path to consistency!
* This chart refers to your body measurements (in cm) Actual garment measurements can be found on each individual product page.
HOW TO MEASURE YOURSELF TO FIND YOUR BEST FIT:
Use a measuring tape. Alternatively, you can use a piece of ribbon/string and then measure it with a ruler afterwards.
Don't hold the tape measure too tightly to your body, you should be able to breathe comfortably when measuring.
It makes things easier if you do your measurements in front of a mirror or if you have a friend to help you out.
Take your measurements over bare skin or in your underwear. 
Note: it is a good idea to take into account what underwear you normally wear. For example: if you normally wear a padded bra, it's best to measure whilst wearing that bra as the padding can quite dramatically alter your measurements. Similarly, if it is a style that you wouldn't normally wear a bra with, measure over your bare skin.
Bust:
With your shoulders relaxed and arms by your sides measure the largest point of your bust, ensure the tape measure is held level around your back.

Waist:
Relax (don't breathe in!) and measure the narrowest part of your waist, if you are unsure, bend sideways and where you 'bend' is a good indicator.
Hip:
Stand with your feet together. Measure around the  widest part of your hips and bottom. Ensure you keep the tape measure level.
HOW TO USE GARMENT MEASUREMENTS TO GET YOUR BEST FIT:
Each of the Magpie Goose product pages will have some key measurements of that specific garment and advice about the fit (eg. oversized, true to size etc).
To put it simply, you want your BODY measurement to be SMALLER than the GARMENT measurements. You want to allow a few cm extra for "breathing space".
A good way to check your desired fit is to get your favourite pair of pants and check the waist measurement on those. You can do the same thing for the bust measurement of a top, etc.

If you need some help with deciding  your size, just get in touch! hello@magpiegoose.com

Or, if when you receive your order it's still not right, that's ok too! Check out our returns process here
Customer Reviews
10/07/2021
Lilly Pad Box Top
A really lovely and flattering top. I am so glad I found out about Magpie Goose.
Clare L.

Australia
06/19/2021
Anne
The feel and fit is great, I love the box tops and get many compliments at work about them (I wear Magpie Goose at work often with a singlet underneath and love feeling colourful with such beautiful designs). My 4 year thought "I love it so much mummy!" when she saw me wearing it for the first time.
Anne B.

Australia
03/11/2021
Box tops - Lily Pads and Oyster Shells
I could not be happier with my two box tops. Just love the designs and the quality of the cotton. I was so happy with the Lily Pads designed by Dulcie Williams I then purchased the oyster shells, designed by Nina Maraltadj. Wish it was warmer for longer where I live so I could wear them for longer through the colder seasons! I could not believe how quickly they arrived, too.
Elizabeth J.

Australia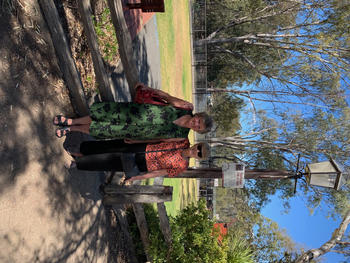 03/11/2021
Lily Pads
Love it, this is my second box top so I knew it would fit and look great. I wear both with loose linen black pants, and love the colour added to my usual black wardrobe!
Linda S.

Australia
03/01/2021
Beautiful story, love this piece
Feels comfy and special all at once - thank you Dulce for such beautiful design and story.
Aimee B.

Australia