How did the Neon Reef collection come about!?
Back in March 2021, Magpie Goose co-founders
handed over the business
to art world powerhouse couple Troy + Amanda. While Troy + Amanda had a lot of experience in many things, this was their
first foray into fashion
! The team met in Brissy for a big 'handover training sesh'; and it was decided that we could all best learn by doing! So the idea was pitched - a reprint of some QLD favourites from previous
HopeVale
and
Jinibara
collections, in new colourways, on beautiful summery linens + cottons!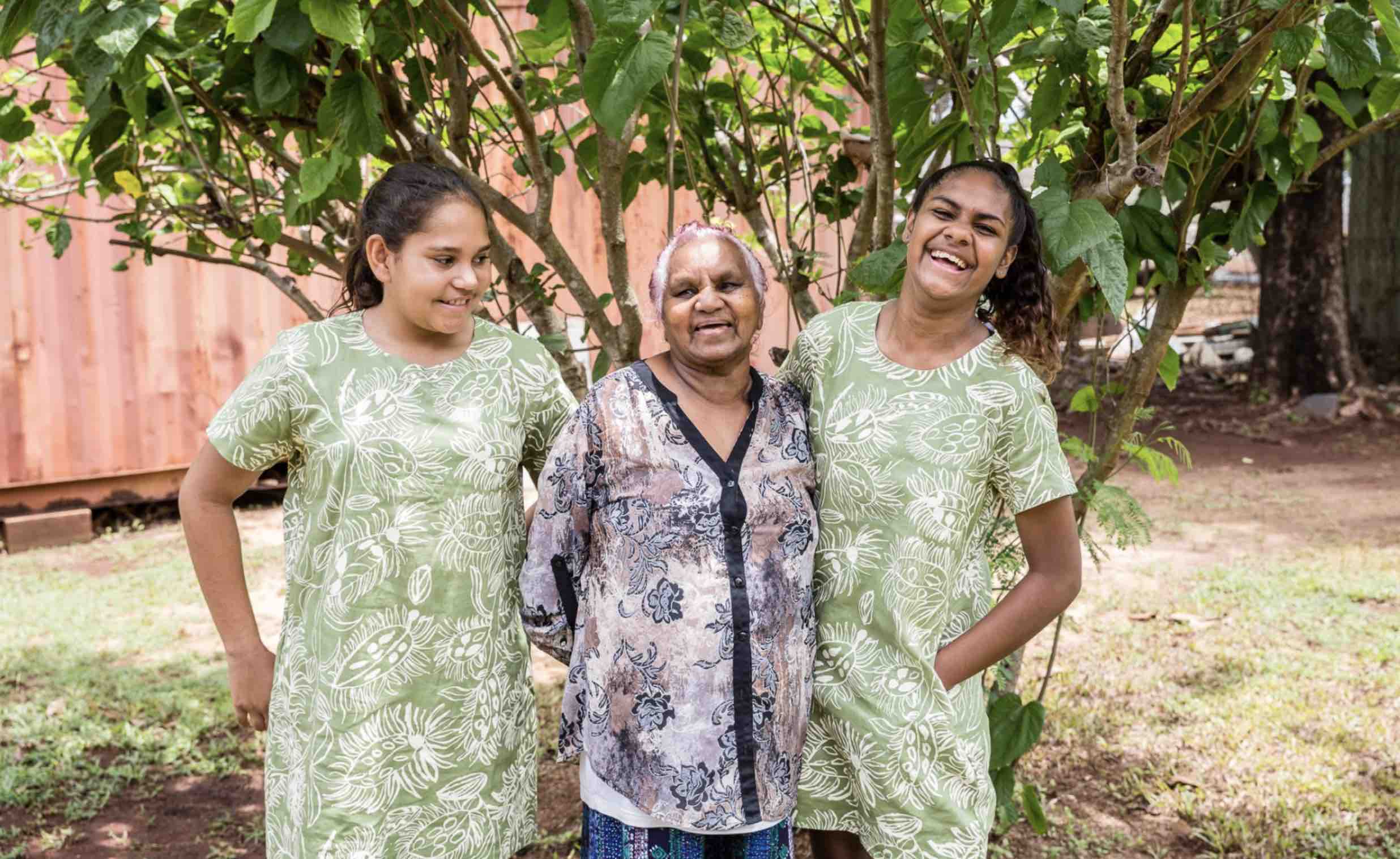 Madge Bowen + Gertie Deeral with their designs, part of the Magpie Goose X HopeVale Arts + Culture Centre collab from 2018/2019
With the headquarters of Magpie Goose now being in Brisbane we thought it was important to create a collection that celebrated QLD artists and their designs and what better platform than Cairns Indigenous Art Fair! (This went online due to covid - check out the fashion show , below!)
---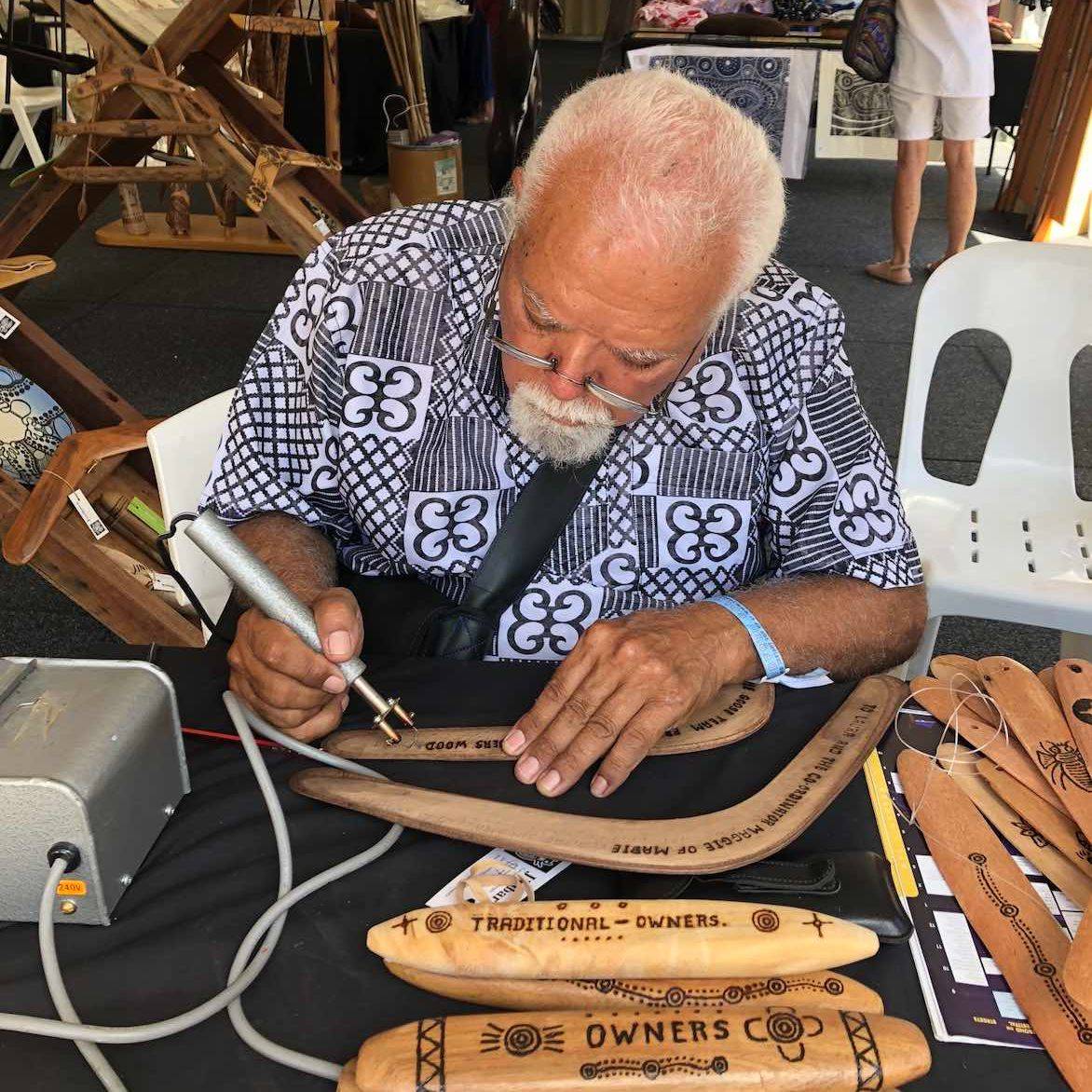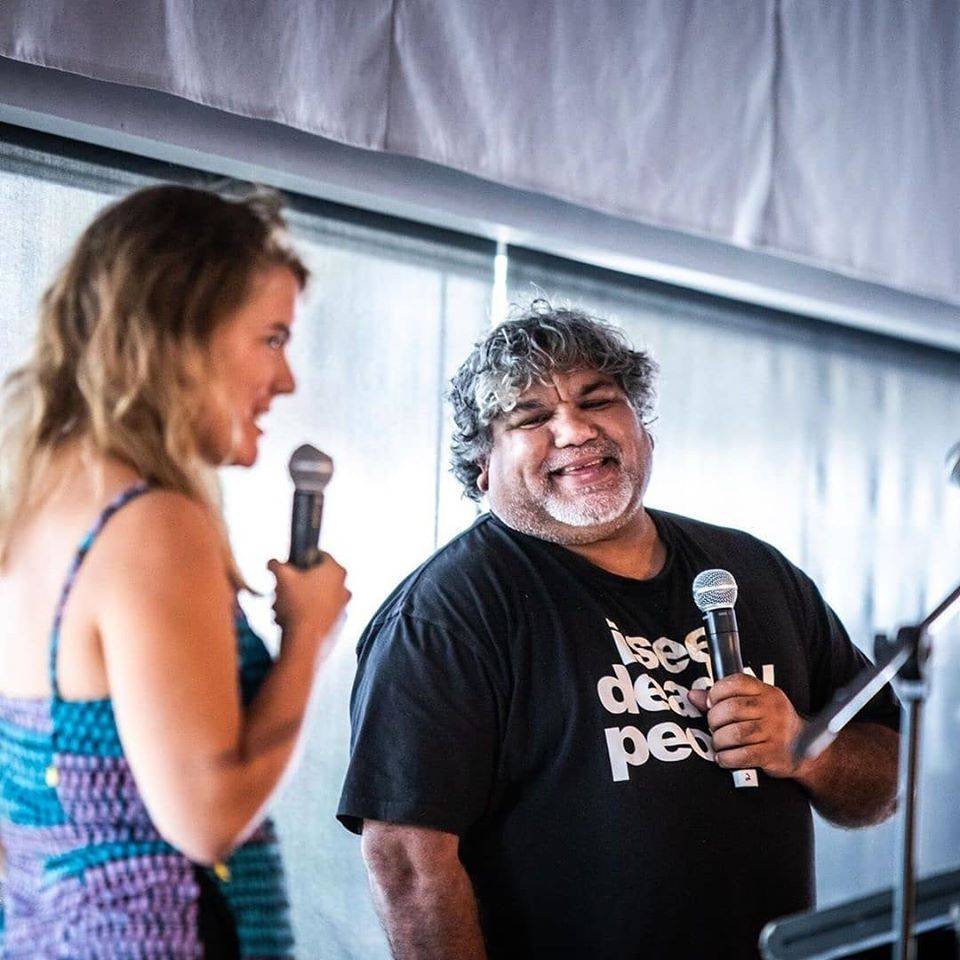 Uncle Noel burning his clapsticks at the Jinibara Gallery, Woodford Folk Festival; Jason Murphy talking about his Yellow Fella design on stage
There was much to learn! We all sat down and riffed on a range of colour options, checked out all the colour swatches, and got an overview of all the current Magpie Goose styles (turning our minds to what prints would work well with what styles!)
It was such a collaborative and iterative process, which really allowed us all to understand the mechanics of designing a collection from the very beginning
---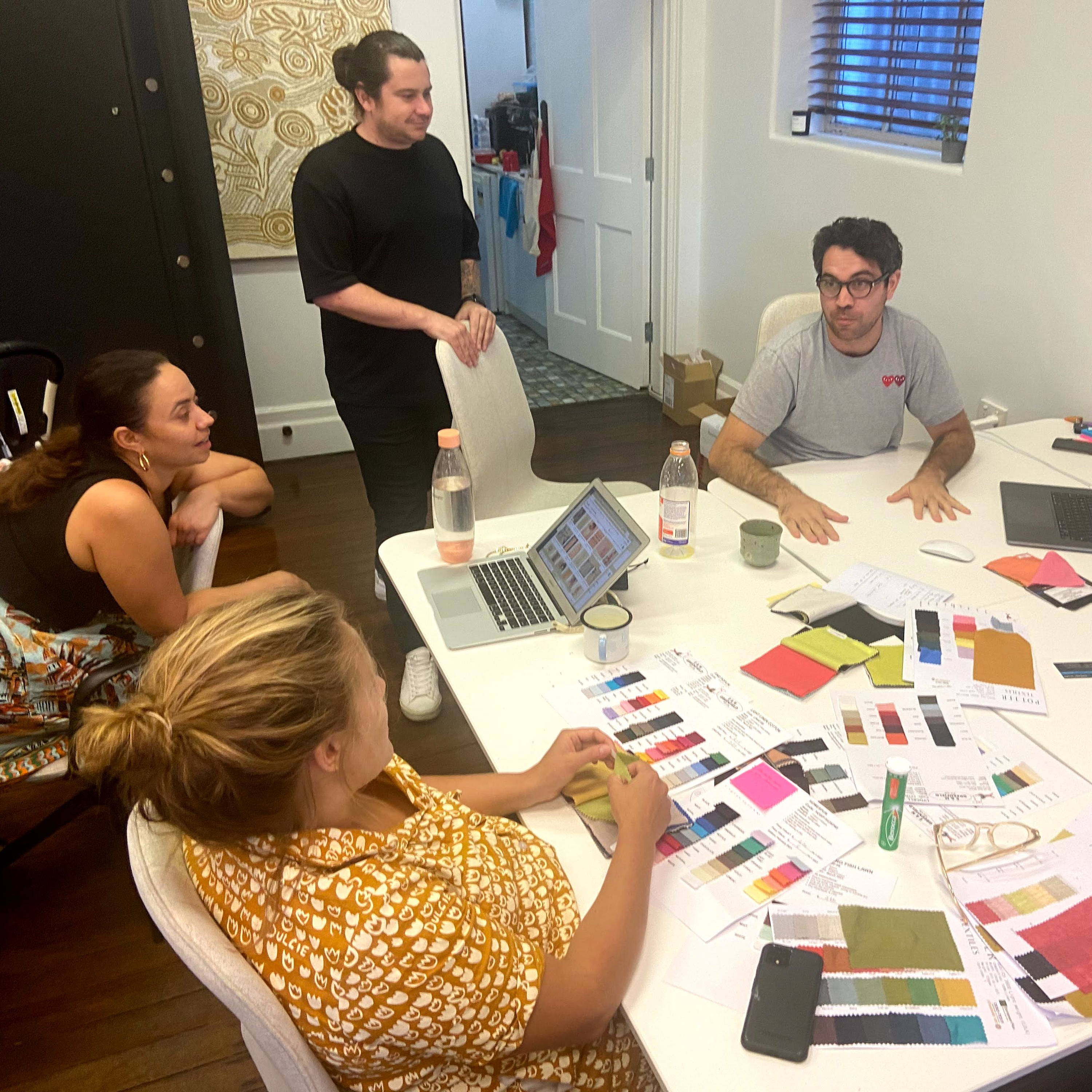 ---
Over the following months, production manager Belle pitched some new styles (hello relaxed waist pants + cropped tank, you little bewdies!!); sourced fabrics; connected with new screen printers; oversaw strike offs.
Troy threw himself into understanding the mechanics of the business - fully understanding the cost of make, connecting with Copyright agency, tracking and recording our impact, making decisions on buttons, zips + base cloths, and finally recruiting photographers + models for product shoots! Co-founder Maggie met regularly with Troy to skill him up on content creation, all things Shopify + sales, and editing the online store! (The sexy side of fashion!)
---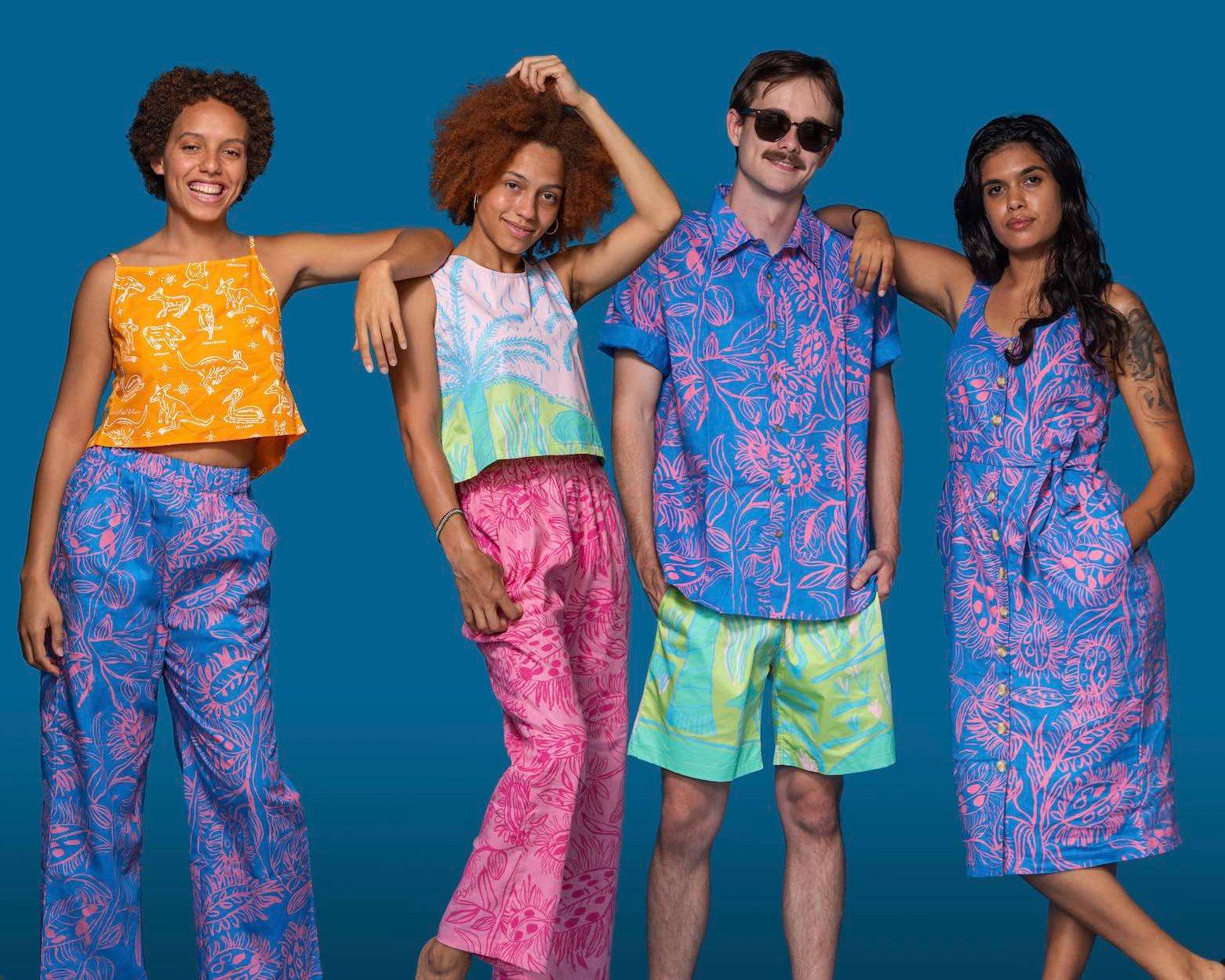 ---
We've loved the chance to give Aunty Madge's
Bulgan Warra
design; Aunty Gertie Deeral's
Yarrun
design; Uncle Noel Blair's
Jinibara Animals
and Jason Murphy's
Yellow Fella
print a re-run - there's so much potential with new colourways!
We hope you enjoy the collection as much as we do!