We all feel very grateful to our customers + our wider Magpie Goose community, as we reflect on another crazy pandemic year! We're still here, thanks to you!
There's been some big big changes in the business; and as always, some incredible impact created for our artists and industry partners!
Here's our impact wrap up for 2021.
Transition to Aboriginal ownership + leadership
This was one of our most impactful years yet, as Magpie Goose became the first business to transition to 100% Aboriginal ownership and leadership.
This was a courageous act of reconciliation-in-action - read the full story of the transition here and here.
As part of the transition, co-founders Maggie and Laura have been training up new owner/directors Amanda and Troy in all aspects of running the business, alongside the broader team they have assembled to support with sales and customer service.
The recently launched Neon Reef collection was a beaut culmination of a learning process that began in March, when Maggie and Laura stepped the new team through the process of creating a collection! And what a ripper collection it is.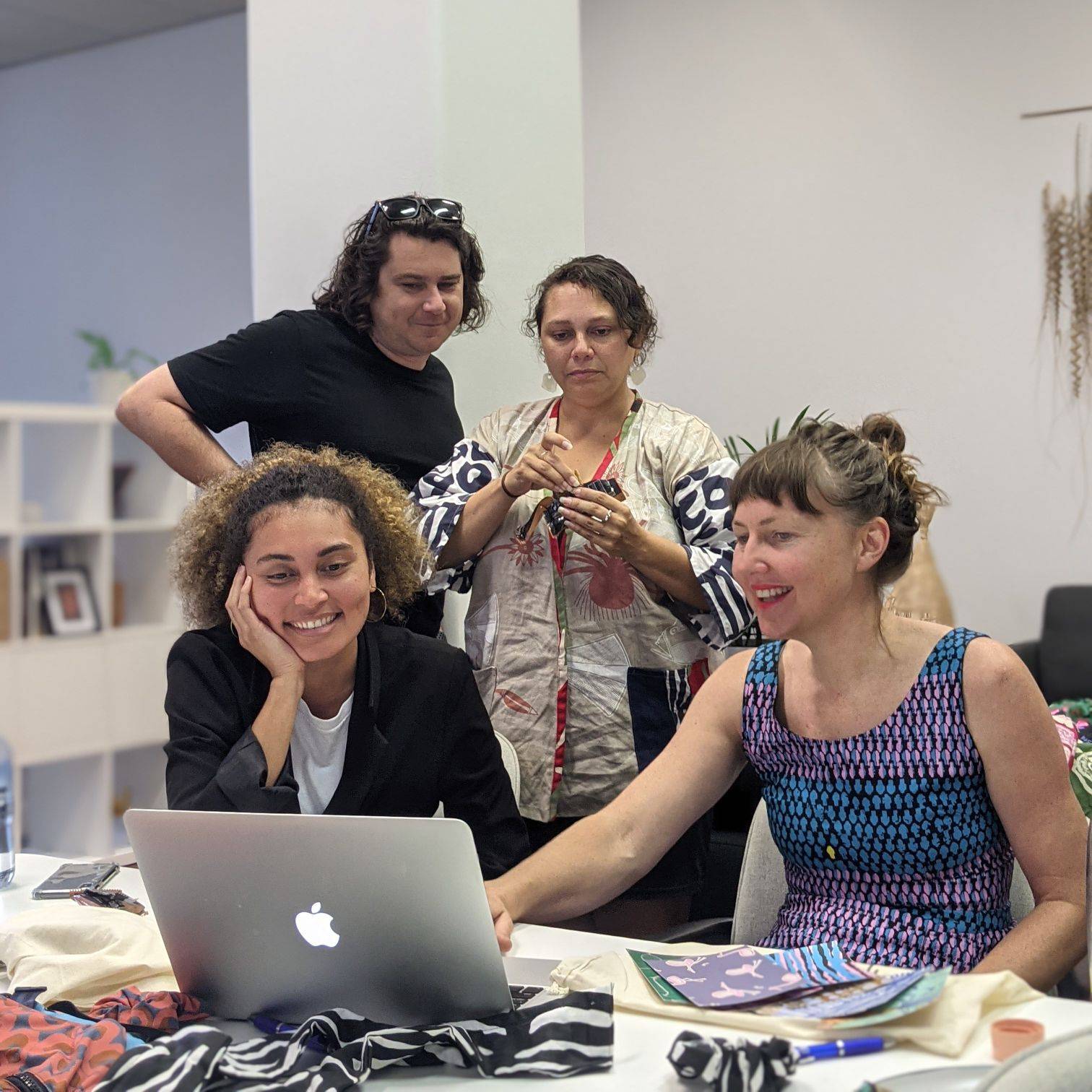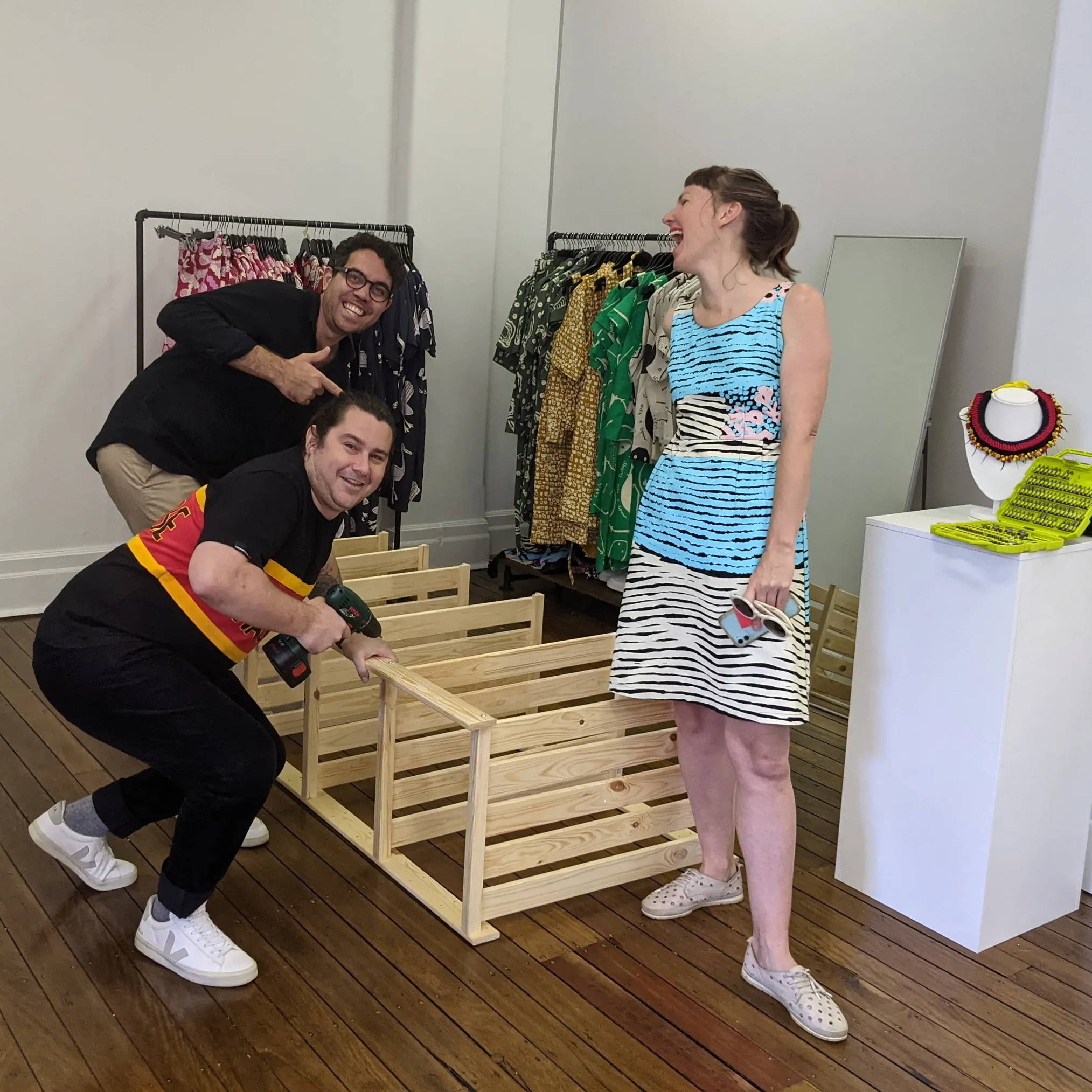 The new team in March; Laura running through the history of Magpie Goose, core values, previous collections, and a Shopify how-to; Troy, Chris and Laura moving the stock + setting up new HQ in Brisbane!
Licensing payments
This year saw us make over $74,000 in licensing payments, bringing our total licensing payments to $480,000 since 2017. That is nearly half a million dollars!!
Importantly, our artists collaborators were able to make much needed purchases; and had a huge sense of pride and self-worth. This is why we exist!
"The biggest thing (I've observed) has been the empowerment it's brought. The women who are involved in the project feel very proud of what they've done and what they've achieved. It's a step up. No one - before 2018 - would have thought there'd be a Kalumburu fashion collection! It's amazing...
The whole collection and experience, the financial benefits, has been so empowering for the women. I can see their pride...people believe things are possible now."
- Fi, Kalumburu Women's Centre Manager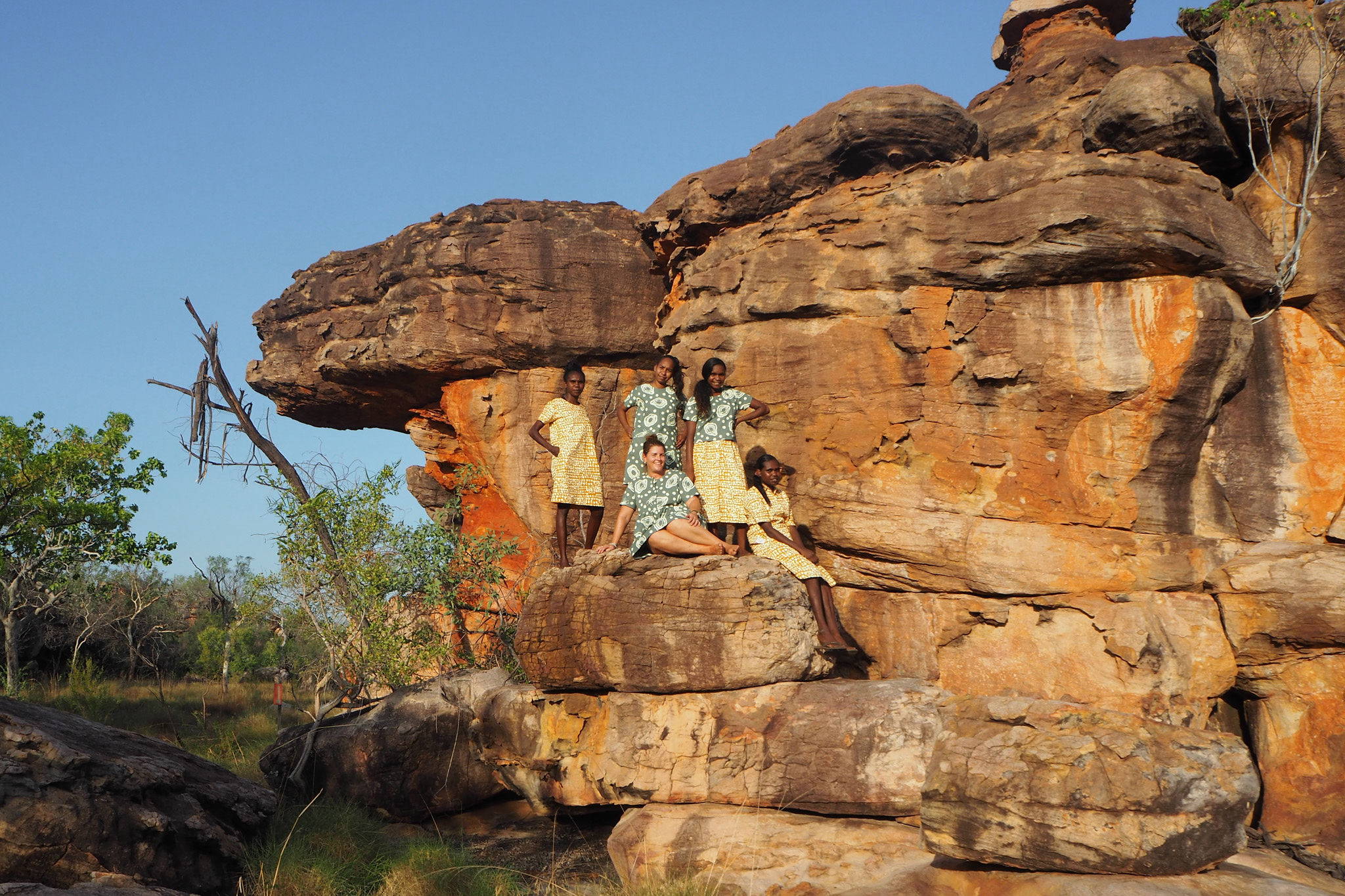 Modelling and photography
In a[nother] year that prevented travel and gatherings, we got creative with our photography + marketing, sending outfits and briefs to talented photographers and models around the country!
We loved sharing our social media platform with Cungelella Art and were thrilled with the snaps taken by emerging Aboriginal photographer Melinda Hooper from Millie's Moments. We were fortunate to engage Aboriginal photographer Claudia Thornton (from Kabi Kabi country) for our Neon Reef collection product shots and as always, we roped in some of our talented mates who moonlight as Magpie Goose models, while helping grow the reach of some fabulous emerging models as part of our Neon Reef campaign shoot (and the CIAF fashion show!)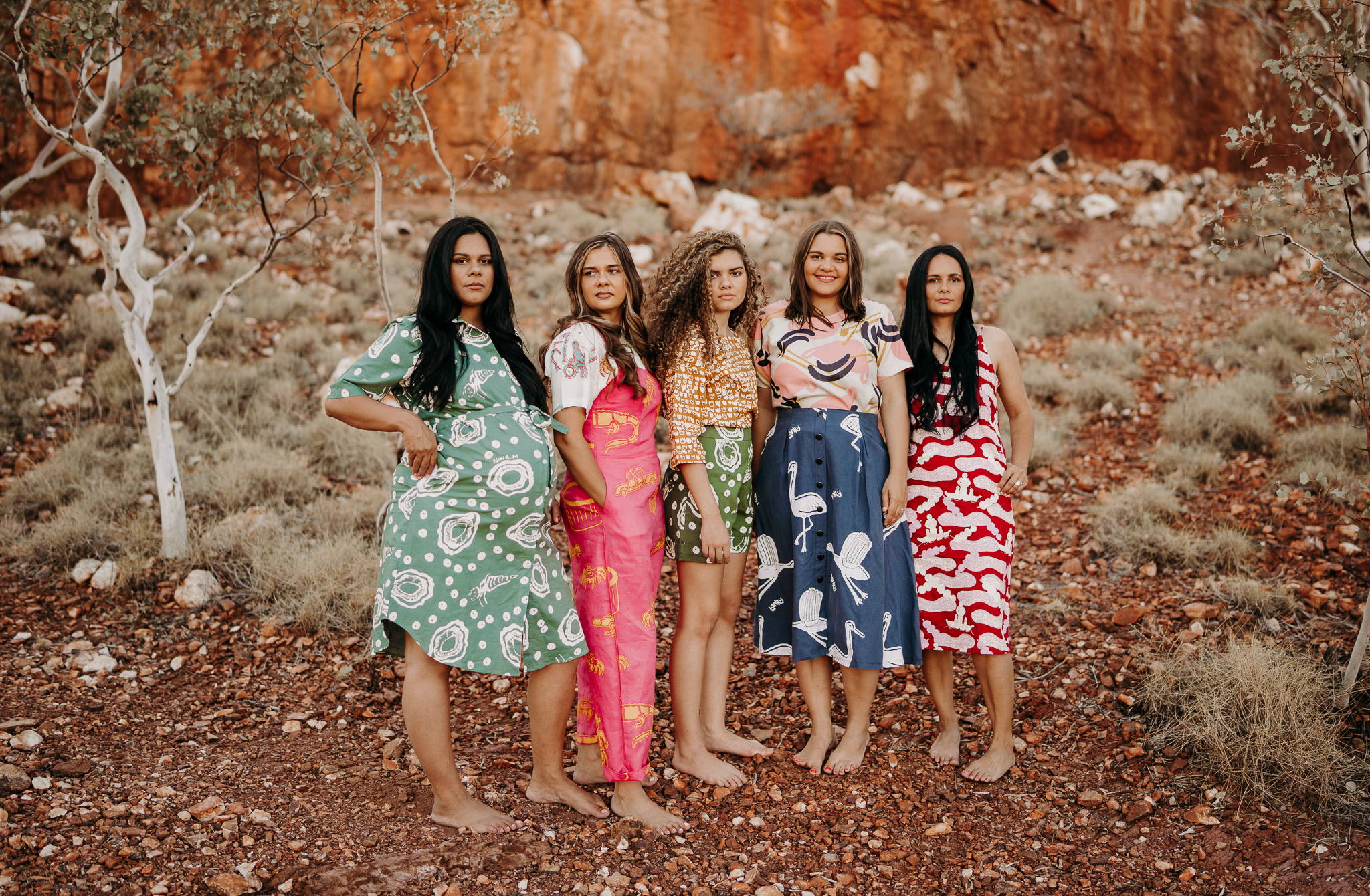 Production
2021 saw the continuation of our partnership with Second Stitch, a refugee and asylum seeker textile enterprise in Melbourne. The women involved have designed and continue to patch together a fabulous selection of accessories - including bumbags, cosmetic bags, scrunchies, baby bibs, and headbands- ensuring our fabric offcuts are put to good use and kept from landfill!
We continued to work with our dream team in Sydney: printing specialists Publisher Textiles + a few new screenprinters, our manufacturers Sphinx Australia; our pattern maker Gina Baby (who helped us to develop some new styles to add to our collection) and our Newcastle-based graphic designer whiz Millie Shorter! 
Notably, we welcomed a new in-house production manager Belle - who has streamlined our production, and helped us to become a Very Professional Outfit!!
We sadly farewelled the beautiful Hassan from Sphinx; and send all our love to his family + the broader Sphinx team.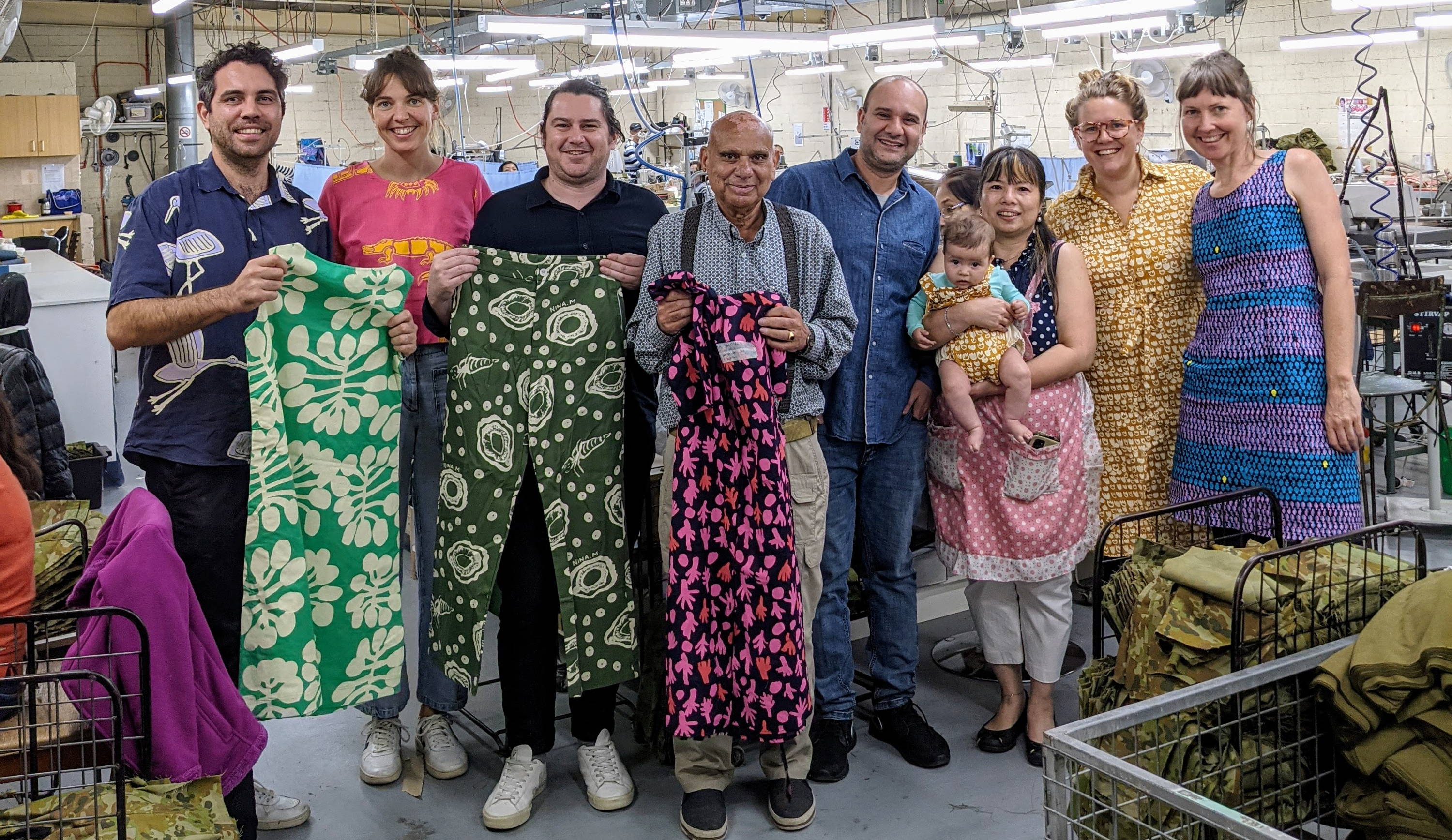 Pop ups + Stockists
It was another pretty quiet year for pop ups due to Covid19, but we were able to fit in:
- a handover-celebration popup in Brisbane in March (at Blaklash HQ)
- a Sydney training-the-new-team popup in April (thanks 107 Projects in Redfern)
- 'the-training-wheels-are-coming-off' popup in Darwin in May, (thanks Sister Buffalo for having us!)
- a triumphant return to Darwin by Chris + Troy this month, where the reception was off-chops! (Thanks to Darwin local Kath for helping out, and House of Darwin for hosting!)
We installed the Magpie Goose range in Troy + Amanda's other hustle - gallery + shop Aboriginal Art Co - and are grateful to our Brisbane stockist Open House Collective for continuing to showcase Magpie Goose clothing!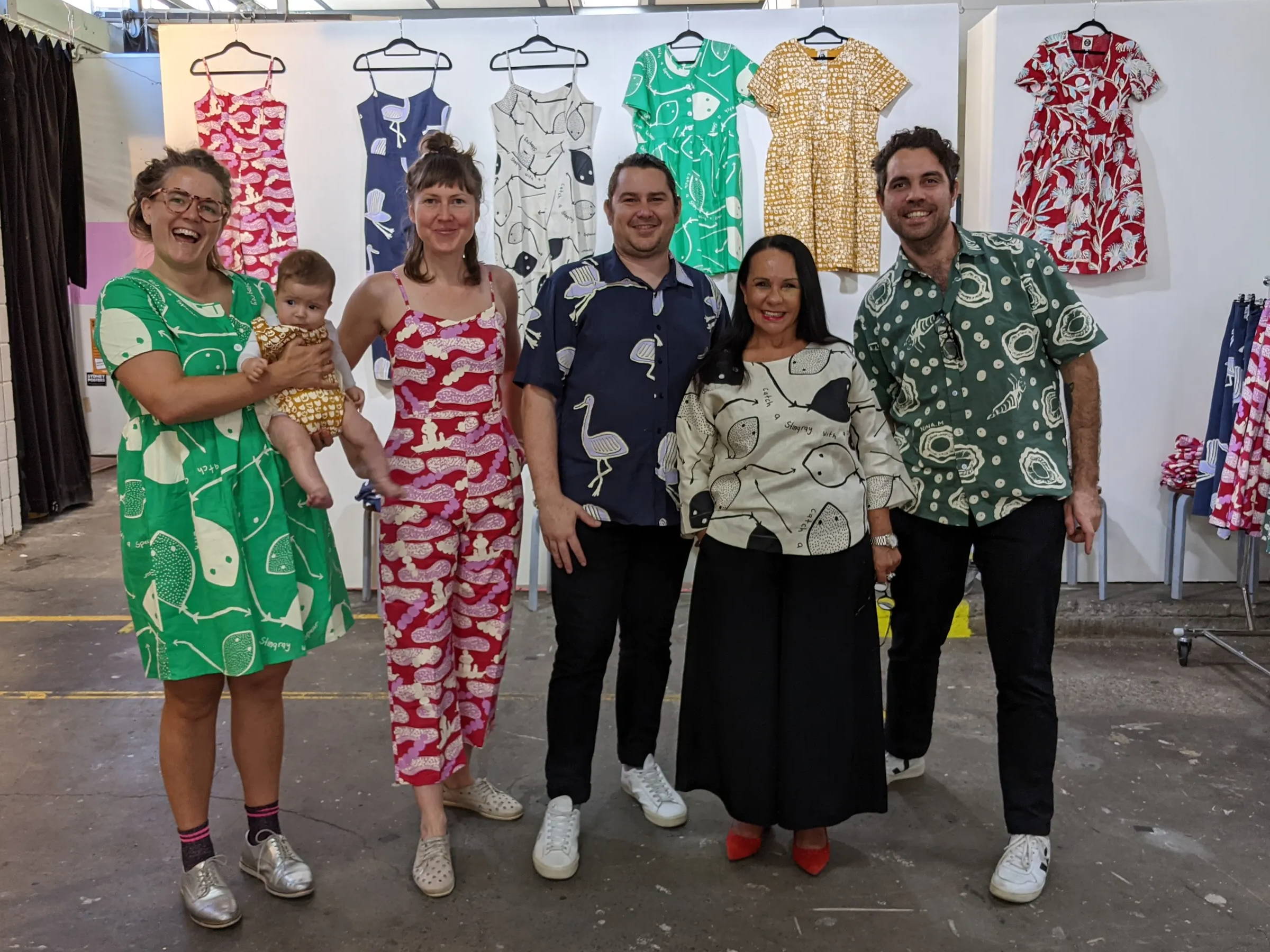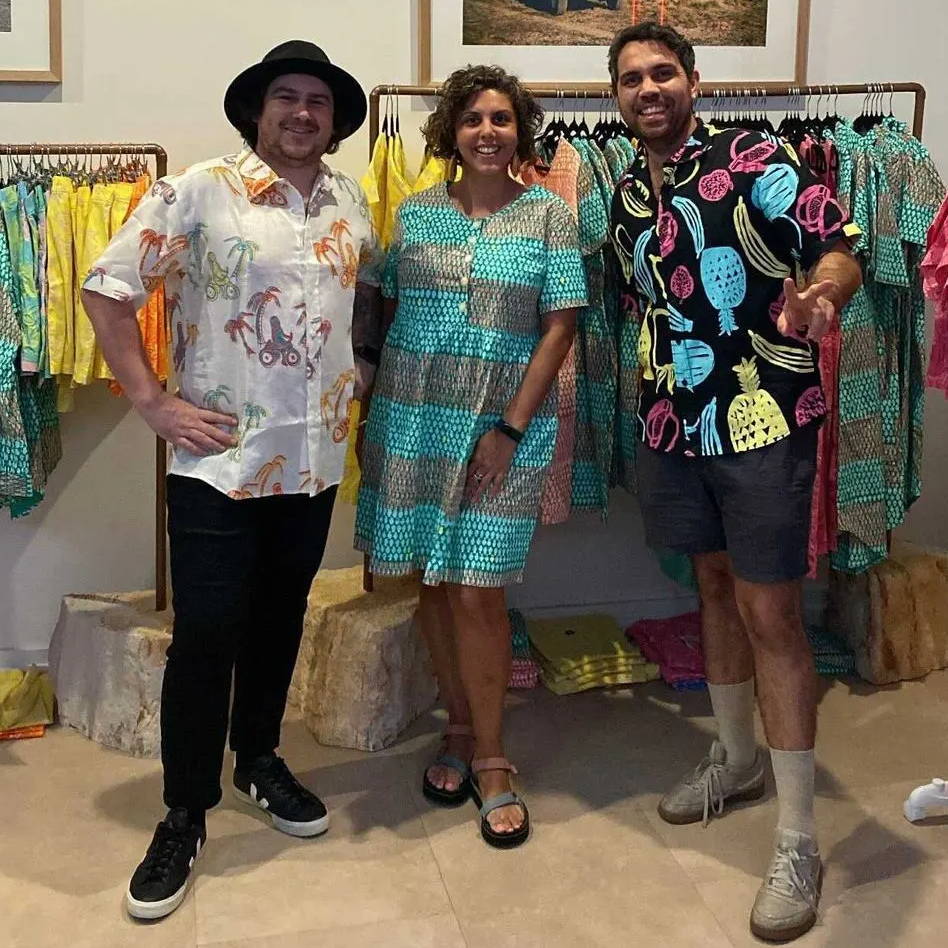 Magpie Goose Sydney popup team with MP Linda Burney; and Dec Darwin popup team!
Size inclusivity
We loved being able to offer sizes 6 to 22 in our Kalumburu collection. We received incredible feedback, and we'll continue to develop our collections so that we are able to kit out as many people as possible.
Our ongoing commitment to ethical business
Magpie Goose is committed to ethical and transparent business practices. We work with Aboriginal artists and art centres who see shared value in collaborating. We're grateful to be assisted by Copyright Agency, who support us to broker ethical licensing agreements with remote artists.
Reconciliation and celebration
One of our goals is to create opportunities for people to connect with, learn about and celebrate Aboriginal culture. This year we continued to hear from many of you about what it means to be able to wear these powerful designs - we love receiving these emails! The clothes really do become vessels for sharing stories and making connections.
Thank You!
We are truly grateful for all of your custom, support and encouragement this big transition year. We are creating this story together and it feels good!!!
Team Magpie Goose